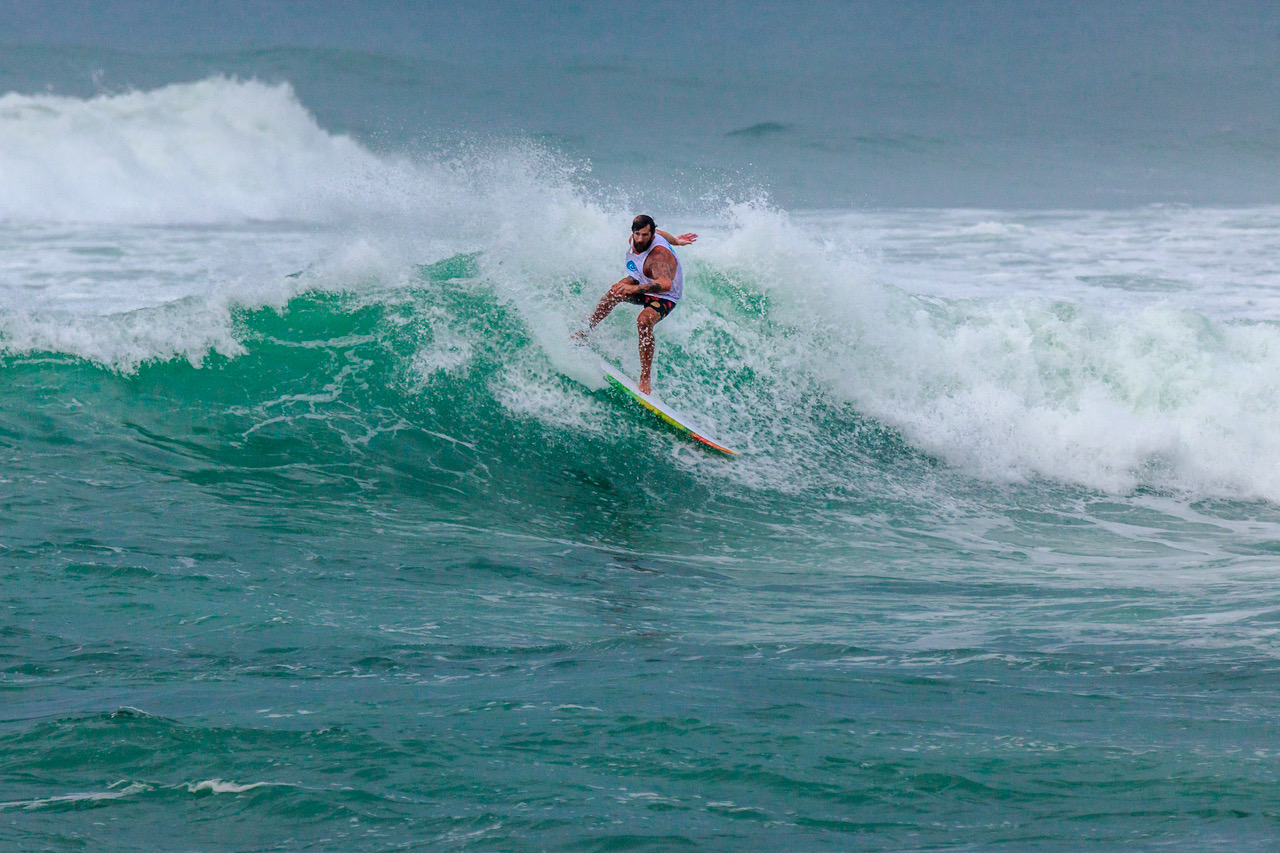 Surfing in Sri Lanka – The ultimate guide to the best surf spots in Sri Lanka
It's been not too many years since surfing has come into the frame of this fabulous island and gained blistering popularity, making Sri Lanka widely-known tropical surf paradise. 

And there's a good reason for that. Warm water, palm-fringed sandy beaches and all kind of surf spots for any taste and level: reef breaks, beach breaks, point breaks. Variety is the keyword. 

Perfect place to begin/advance in your surf journey. 

To give you a helping hand, we created this Sri Lanka surf guide with all the necessary info you need to know for perfect surf get away. 
Weligama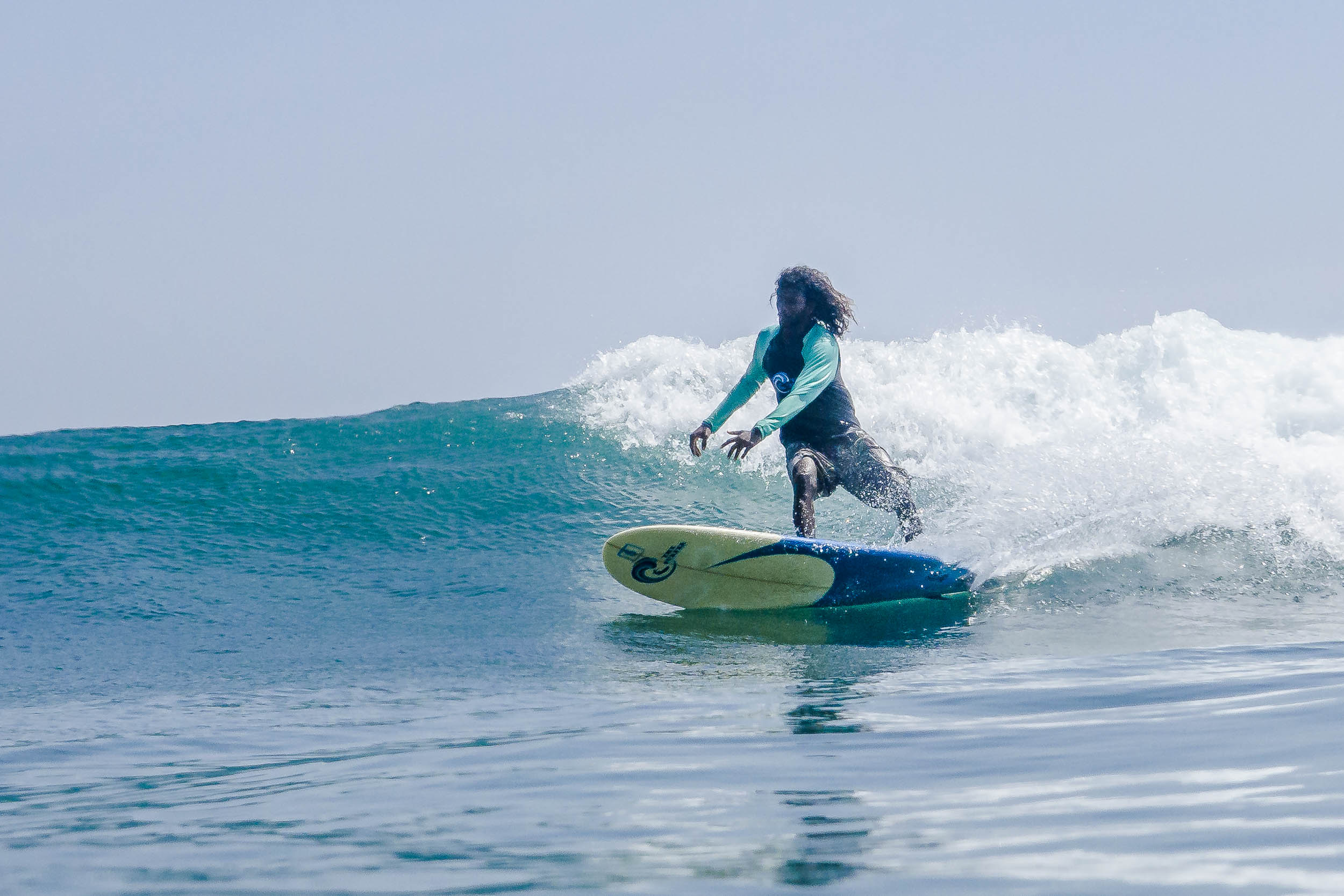 Photo credits goes to original owner
The home of our surf camp The Surfer Sri Lanka – Weligama was once just another sleepy coastal town, now is widely known as one of the Sri Lanka best beginner surf destinations. 

As you can see on the map, Weligama is a huge bay on the southern tip of the island, protected from the heaviest swells, making its waves soft and smooth, perfect for beginner surfing. Even when there are high walls striking through the reefs of nearby surf spots outside of Weligama Bay, you can still enjoy slow and easy beach breaks here. 

All along the shore, comprising beginner-intermediate surfing beach, you can find some of the top-rated Sri Lanka surf camps, thus best surf schools within 500 m distance.
there is never a shortage of board rentals and surf instructors ready to bring your surfing to another level.

And hey – it's not only best surf for beginners.
As Weligama located perfectly in the middle of all the best surf breaks Sri Lanka has to offer on the southwest, there are plenty of nearby reefs and point breaks for intermediates.

Just within 15-30 minute drive in both directions from our surf camp you can hit lots of quality surf spots: from Matara surf breaks to some of the best surf spots of Ahangama.
This is also a great way to advance gradually going from soft beach breaks to some of the zippy reef surf points.
Mirissa
Photo credits goes to original owner
If you can't stay away from fizzy mojitos and fresh coconut juice while on your surf holiday, Mirissa has a few spots that might be worth of checking out.
It's not considered a surf mecca like some of the other surf spots on our list, but it has a popular reef break, which is ideal for intermediate and advanced surfers. Mirissa coast is lined with lots of restaurants and caffes along the shore, as well as bustling nightlife scene, for those after a parties.
Midigama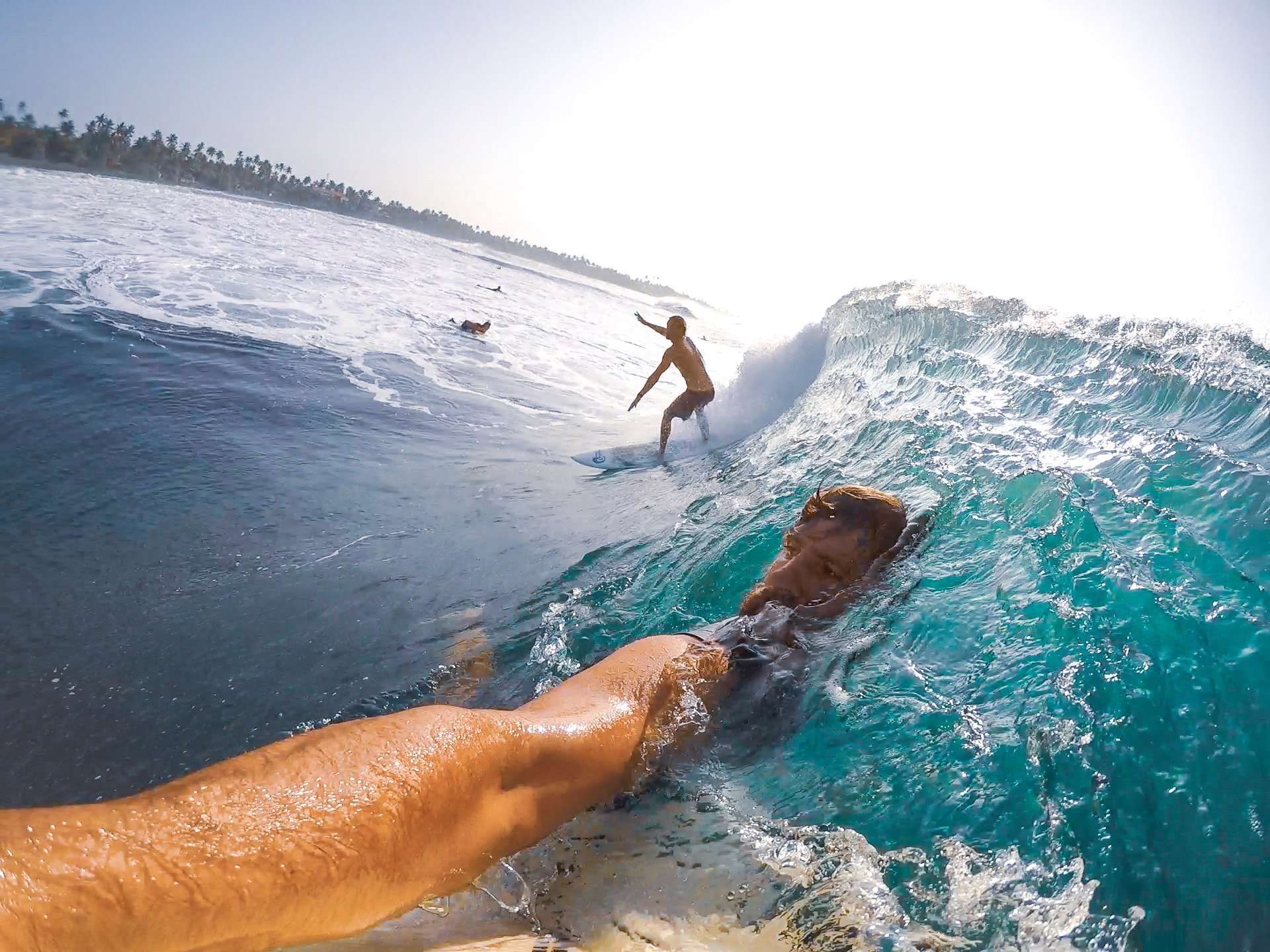 Photo credits goes to original owner
Relaxed surf village, located on the southwest coast, Midigama is famous for five consistent surf points within walking distance to each other, that are definitely worth of marking on your Sri Lanka surf travel map. 

Short 5-10 minutes ride from our surf camp and you're hitting few of the best surf spots in the area. Make sure to check out our guiding surf package for the best experience. 
You would definitely need an experienced surf guide to ride at Midigama surf breaks, as those are pretty tough to handle and require knowledge on specifics of each one. 

Coconut and Plantation, the top surf spots for intermediate and advanced surfers, are located just one kilometer south of Midigama Beach. These two can hold a rigid two meters swell. 

Rams is the best advanced surf spot in Midigama: short, shallow and powerful reef. Hollow waves and barrels are common. Suitable only for advanced surfing. 

Lazy Left is the most famous surf break in Midigama perfect for advanced and intermediate surfers. The deep reef offers long, 500 meter left rides on a better days. Best time – when its low tide. 

Lazy Right is for sure the best level 2 beginner surf spot in Midigama. Deep reef break, holding up big swell, good for long boards. When everywhere is closing out – check Lazy Right – you might be surprised with some awesome rides.
Ahangama
Ahangama, a former fishing village that comes right after Midigama, boasts its long stretch of beautiful tropical shoreline, offering all sorts of surf breaks – from sandy-bottomed beach breaks for beginners to rocky points and reefs for intermediate and expert surfers. 

Most famous surf breaks are Stick Point – classic intermediate reef break and 'The Rock' at Kabalanas. 

15-20 minutes ride from The Surfer, our surf and yoga camp, and you're enjoying beautiful sunrise/sunset surf session with incredible views of Ahangama. 

All these surf spots are included in our surf guide package for intermediate and advanced surfers available for booking at our surf camp Sri Lanka. 
Our experienced surf guides, well aware of all surf breaks and its specifics, will make sure you get the max of each surf session with us.
Unawatuna
Unawatuna, a beach town just south of Galle, worth checking out on your way to historical Dutch Fort. At The Surfer surf camp Weligama we highly recommend to visit this picturesque and atmospheric town while you're in the South. 

Beginner-friendly surf spots are tucked into the inside of Unawatuna Bay, including beginner mecca in the area – Dewata Beach/Clossenburg Beach, offering slow and mellow waves. 

Around those are a few reefs and some stretches of shore leading down all the way to Weligama, home of our surf and yoga camp Sri Lanka.
Hiriketiya
Hiriketiya is another horseshoe bay in the South, but less known than Weligama, what makes it more of a hidden gem. 

Beautiful sandy beach with crystal clear water has the best of two worlds – smooth and soft waves for beginners, and – steep surf break that soars over shallow reef for intermediates and advance surfers – making it one of the best Sri Lankan surf beach breaks.
Hikkaduwa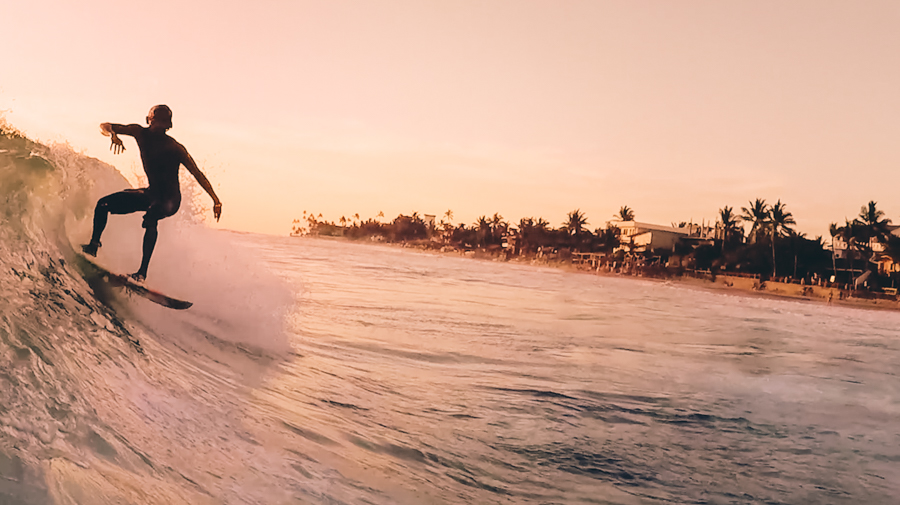 Photo credits goes to original owner
Hikkaduwa is one of the most developed surf tourist towns, famous for number of local breaks and waves that can reach 3ft to 10ft on high season. 

The main beach is the place where some of the best surf schools operate, thus perfect for beginners with its soft sandy seabed and smooth waves 

More advanced surfers can head to Benny's – swift and steep reef, a left hander. 
For intermediates, ready to bring their surfing to another level, these surf spots will be a strike: 
Main Reef – left and right handers – deep reef so relatively safe; 
North Jetty – long lefts, reef break by the harbor wall.
Arugam Bay
Photo credits goes to original owner
Widely renowned as one of the best surfing destinations not only in Sri Lanka, but in the whole Asia, Arugam Bay is rightfully believed to be a surfing mecca of the island. 

During high season (from May to October) the area is bustling with cheerful, eager surf crowd from advanced surfers to those just getting their feet in, as Arugam Bay has variety of the best surfing spots on the East catering to any level. 
From the gentle swells of Pottuvil Point to the rushing swells of Peanut Farm you are sure to catch your perfect wave here. 

Arugam Main Point: point break – good for intermediate to advanced surfers and is not suitable for beginners. 

Peanut Farm: surf spot with the sand-bottom main point and inside point – perfect for beginner to intermediate surfing. Easy accessible and extremely famous, what makes it quite crowded most of the time. 

Okanda: is one of the furthest surf spots from Arugam Bay – expect a 45-minute drive or more. The point break is good for intermediate and advanced surfers. 

Pottuvil Point: Another popular break, with a main and inside point, what makes it perfect for all surf levels. 

Whisky Point: offers 1 main point – many beginner lessons take place here. 

Lighthouse: the break is further away from Arugam Bay, so tends to be a little less crowded. 

Elephant Rock: Another famous surf spot for people looking for the slippery barrel. This is a right hand pointer located south of Arugam Bay.