TOP 5 BEAUTIFUL BEACHES IN SRI LANKA SOUTH COAST
Sri Lanka's surfing scene is becoming more and more popular from year to year and is already accepted as the world best, suitable for surfers of all standards.
Surfers from around the world are attracted here by tropical warm ocean and wide variety of quality surf breaks, but there's no way to overlook natural paradisiacal beauty this island has on display.
The beaches of Sri Lanka's South Coast have gained a reputation of the most beautiful and picturesque locations in South Asia – and rightfully so!
The most of them are really as paradisiacal as you've seen on the pictures. Visiting beaches between your surfing sessions is an absolute Must Do in Sri Lanka!

Around The Surfer Sri Lanka, our surf and yoga camp in Weligama, you can find Sri Lanka's top most beautiful locations within 10-30 minutes drive – from hidden virgin beaches to famous touristic attractions.
Here's the list of 5 Most Beautiful Beaches you don't wanna miss out while staying at our surf camps Sri Lanka.
1. Wijaya Beach
Photo credits goes to original owner
At The Surfer surf camp Sri Lanka we recommend this place as our most favorite and absolute leader on the list to chill, swim and snorkel when you have day off from your surfing routine. It's a pristine white-sand beach with scenic rocky landscape and palms leaning over the calm blue water. The scenery is absolutely surreal. It has all the quintessential features of tropical paradise you've seen in classic postcards and holiday guides.

More than that – don't be surprised when you see turtle heads pop up out of the ocean here and there. The coral reef in front of the beach creates a natural swimming pool with crystal clear water, where you can take a swim or snorkel with huge 100-year old turtles roaming around munching on their favourite sea weed.

The beach is also suitable for surfing, but definitely for advanced surfers, who know the surf spot as palm of their hand due to strong currents, rocks and complicated landscape.

Season: October to April 
Crowded: A little bit
Surfing: Not great
2. Mirissa beach
Photo credits goes to original owner
If you're looking for a beach escape that has it all – Mirissa is the one. From white sand beaches to shady palm forests on the picturesque hills – this quiet little coastal town is everything you've been looking for.

At the first sight, it may seem like any other lazy coastal town, but as we know at The Surfer, our surf and yoga camp in Sri Lanka – there's quite a lot of fun and excitement to be found and we know where to look. From bustling nightlife scene to fantastic Mirissa Beach itslef – the 2km long shore, divided by the famous Parrot Rock. The left side of the bay is especially popular with snorkelers while the right side – is a top surfing spot.

This is a great location to relax and chill, as well as to enjoy great surf. It's worth to mention though, this surf break is suitable only for advanced surfers, aware of its reef structure and danger of sea urchins. The good news – our instructors at The Surfer, surf camp Weligama, are dedicated to make your surf experience unforgettable and take you to unique surf spots like this, making sure you're briefed on safety instruction for each different location.

What's more, Mirissa is one of the best places in Sri Lanka to do a whale watching! From playful dolphins to huge blue whales, they can all make for some great time and new impressions.

Season: October to April
Crowded: Quite popular
Surfing: Good surfing for advanced surfers
3. Secret Beach Mirissa
Photo credits goes to original owner
This tiny secluded beach, one of the most beautiful places in Sri Lanka, is an absolute must for your visit. Even though it is not easy to get there, this little hidden gem is located just around the corner from the main beach in Mirissa and 10 minutes drive from our surf camp in Sri Lanka.

The great thing about this place – when you reach there after quite a hike through the lavish flourishing hill, you'll be pleasantly surprised to discover not one, but three picture perfect beaches situated on the different sides of the lushgreen peninsula: Blue Lagoon, Palm Cove and Shelly Beach.

There is lots of exploring to do when you have some free time between your surfing sessions at our surf and yoga camp The Surfer. Particularly Mirissa Secret Beach is famous for abundance of wildlife around, including wild peacocks, monkeys, squirrels, fruit bats, land monitors and turtles.
Enjoy an incredible sunset and don't forget to take some postcard-worthy photos at The Secret Beach in Mirissa, one of our favorites at The Surfer, surf camp Sri Lanka.

Season: October to April
Crowded: A bit crowded
Surfing: No
4. Hiriketiya Beach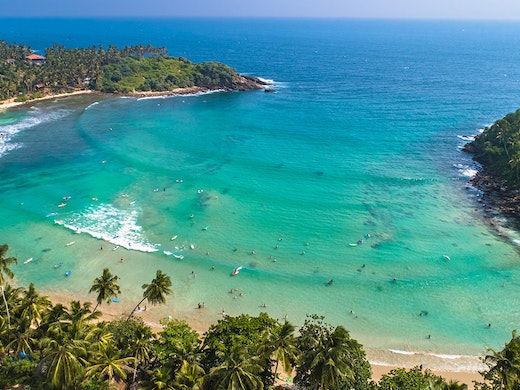 Photo credits goes to original owner
Hiriketiya Beach, also called Hiri Beach, is more of a hidden paradise among the best beaches of Sri Lanka. Most of the tourists do not know about this stunning secluded bay and that is what makes it even more special. Quite a drive from our The Surfer surf camp in Weligama, but if you can spare a day – it will be totally worth it.

With lavish palm trees in the background and the brilliant blue tropical waters upfront, Hiraketiya is a crescent-shaped beach that takes pride in its a surreal ambience and flawless paradisiacal beauty.
The waters are clean and warm and offer gorgeous waves for surfing! The beach is also full of decent cafes that serve up fresh seafood and artsy cocktails.

With its unique shape, southern-most-tip location of the island and paradise-perfect ambience, Hiraketiya beach brings up consistent breaks that are perfect for beginner and intermediate surfers most of the time during the year.

Season: October to April
Crowded: A little bit
Surfing: Great surfing but sea urchins
5. Unawatuna Beach
Photo credits goes to original owner
Unawatuna is one of the best beaches in Sri Lanka found in the South and only 30 mins drive from our The Surfer surf and yoga camp in Weligama.
This beach is as lively as it can be.

One of the main reasons for Unawatuna's startling popularity is the fabulous amount of natural beauty this beach has to offer. Simply roaming across the white sands of the beach while looking out in the turquoise waters of the Indian Ocean can be a treat all by itself. The waves here are clean and calm and are perfect for a relaxing swim when you have a gap between your surfing sessions.
Rightfully so on The Surfer Weligama's list of the best beaches of Sri Lankan South Coast.

Season: October to April
Crowded: Popular in high-season
Surfing: Possible but not great